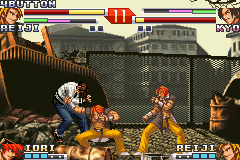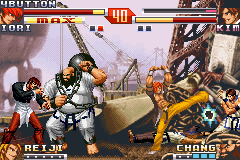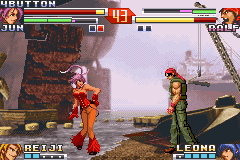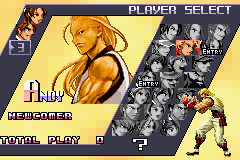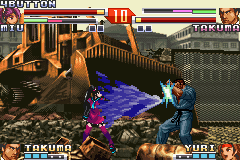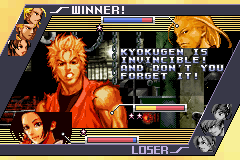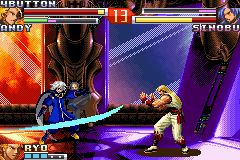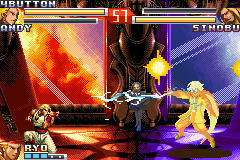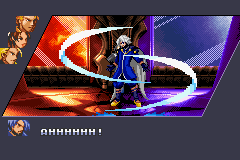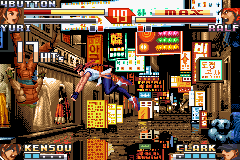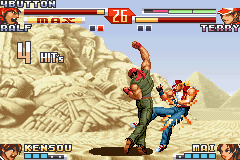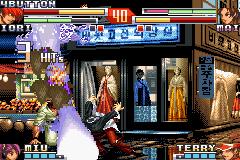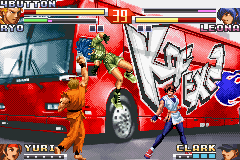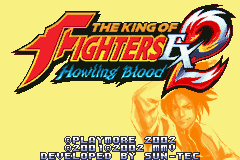 Of the new characters, my favorite is Reiji, and I think most KOF fans would agree; Reiji's character design is the essence of an SNK character. His design is fresh (look at his clothes!), and he doesn't look like a J-POP star (like some other KOF fighters). I'd have to say that in the SNK universe, Reiji is one of my all-time favorite characters to come from SNK's great design staff. Reiji's fighting style and stance is completely different than any other fighter in the game, his moves are fresh, and he takes a while to learn. Reiji's fighting style can be loosely related to the type of image attacking style Vanessa or Chris from KOF2001 use. Reiji's strong point is in his array of Special Moves and akward-hitting normal attacks, topped off with three unique Super Moves that are difficult to avoid. Reiji's animation is great, with good attack animation and the various animations of the little girl that he is always seen with. For example, at the beginning of each round, Reiji is holding the girl, sets her down, and starts the fight as the girl runs off the screen; at the end of the round, if Reiji has won, he holds out his arms, the little girl comes running from the side of the screen, climbs up his leg and into his arms, looks at Reiji, then looks at the screen. Awesome. So much personality was put into Reiji's animation, it's hard not to like his character design.
What other game has a middle-aged, tall, fashion model, with killer moves, stylish animation as part of its cast? None. This is yet another example of the distinct style that KOF possesses, and Jun would fit into no other fighter as well as she does in KOFEX2 (not even Guilty Gear). Jun uses a wrestling-based fighting style, with lots of nasty throws and some powerful kicks; her coolest move is a body slam followed by a quick, well-placed elbow drop. Jun's Super Moves are few, but satisfy nonetheless; with her Chop Buster Excellent Super Move, Jun stuns her opponent, elbows them, kicks them straight up off the screen, they come back down, bounce straight up, and then laid to rest after coming down a second time. Jun's main power lies within landing her throws and countering with her Special Moves while mixing it up with her various kicks. Jun's Special Moves are a bit slow, but her priority and reach is pretty good. Jun's animation is pretty good, with some cool win pose and walking animations. Jun is a great character, and along with Reiji I think that she is the product of great designers, but also the product of that style that KOF characters are made of. Jun is a middle-aged fashion model, in a fighting game. Awesome. What a beautiful character. It doesn't get much better than this...
Miu is perhaps the strangest of the new characters; her Special Moves are a mixed bag, and Super Moves are a bit slow but powerful. As said before, Miu looks somewhat evil, and her moves are all related to her fondness for crows. Miu's projectiles are crow feathers, single or double (like King), she has a lunging drill Special Move that does good block damage, followed by a nice array of other strange moves to throw off her opponents. My impression of Miu is that she is mostly a distance fighter due to the slowness of some of her key moves, as well as the importance of her to counter a move in order to hit with some of her moves. Miu's Special Moves do some good chipping damage, her projectiles are a bit tricky to jump over, and her normal attacks are a bit hard to predict, but when I play her I can't seem to keep an edge in a match. Miu might be a good character for those who are willing to spend time learning her techniques, but probably not recommended for glitch weilders and casual KOF players. In the animation department, Miu looks good; the animation on her dress is very fluid, as is the animation on her hair or the crows that scatter during her entry.
The King Of Fighters EX2 also brings a completely new boss into the KOF series. Thankfully Rugal in one shape, way, form, or another wasn't put into KOFEX2 as the endboss, and instead Sinobu was chosen. Looking a bit like a character from the NESTS design of recent KOF games, Sinobu looks a bit younger than the other fighters (except Bao), levitates off the ground, and packs one hell of a punch. Sinobu uses the elements in his moves; he uses cyclone wind and lightning attacks to dispose of you in a timely manner. The wind attacks Sinobu uses are usually to ward off distant opponents, while the lightning attacks are used for close fighting. However, Sinobu gets pissed after his first defeat and turns older, and becomes orange with a circular glow around his body; in this transformation, he acquires a vertical thunderbolt move that is capable of breaking a block, and his lightning attacks have more reach.
Sinobu at first is cheap as hell and generally difficult, but the more you play against him you find his weaknesses and then he isn't nearly as bad as any of Rugal's incarnations. Sinobu's standing animation is cool, and his Special Moves consist of splashy screen-filling explosions. Seeing the transformation of Sinobu after his defeat is one of the coolest parts in KOFEX2; it has to be seen. The detail in Sinobu's character is outstanding, and I'd have to say that he is one of the coolest KOF bosses overall. Sinobu may be a hard to contain psycho in the game, but his nice character design is on par with that of KOF2001's kick ass boss. Does KOFEX2 have a better boss than KOFEX? Well, seeing Geese at the end of KOFEX was cool, and has a certain nostalgic value, but upon seeing Sinobu as KOFEX2's boss, I was both surprised and content.
The animation in KOFEX2 is outstanding. KOFEX2 uses the GBA hardware to its full potential, as the game displays smooth, fluid animation for each of its nicely hand-drawn characters. The new fighters have some great animation, and some of the returning fighters animate a bit smoother than in KOFEX. Some of the returning fighters have added animation in stances, normal attacks, or win poses, whereas others have new Special Move, Super Move, or Striker animations. KOFEX2's effect animation got somewhat of a facelift; several of the fireballs, hit sparks, flames, and other special effects from KOFEX have been re-drawn and are particularly smoother. Those who played KOFEX extensively will also notice that KOFEX2's effects are a bit splashier. KOFEX2 improves more upon the already great animation of KOFEX, and with very nice results. With loads and loads of beautiful animation put into each character and move, KOFEX2's animation is a pleasure to view. While the animation of Super Street Fighter II Turbo Revival stands unrivaled in the arena of GBA powered fighters, KOFEX2 comes in a very, very close second. In my book, the only reason KOFEX2 stands second is because the outstanding SSFIITR exists on the same hardware.
KOFEX2's design is fantastic. I don't know if my description adequately describes just how nice the game's design really is, so I will first say that you must play KOFEX2 to see for yourself. First off, KOFEX2's vibrantly-colored hand-drawn backgrounds look very smooth, and take full advantage of the GBA hardware. KOFEX2's backgrounds are smoother than those of KOFEX, and have a slightly different theme; KOFEX's stages were populated and lively, whereas KOFEX2's stages aren't so populated and seem to have more of a scenic focus. KOFEX2's stages are somewhat based off those of KOF2000, along with a few added backgrounds never before seen in past KOF titles. The KOF2000 factory, Egypt, shipyard, Korea, bulldozer, and aquarium backgrounds are intact (some even with a few tweaks) and look nice.
There are two new backgrounds in KOFEX2; one is a red tour bus with the letters "KOFEX2" on the side of it, in front of a park among a distant skyline; the second is an indescribable nicely textured endboss stage similar to that of Zero's KOF2001 background. By far, the most impressive battleground in KOFEX2 is the Egypt stage; in this stage the GBA's power is used to smoothly render and animate a transparent, cloudy sand storm in the first round, while in the second round nicely detailed pyramids and statues are visible under a calm blue sky. Another nice stage is the factory (also originally from KOF2000), in which smooth rays of light shine into the factory through the blades of a giant fan. Those who loved seeing their teammates in the backgrounds of the other KOF entries will be happy to hear that teammates stand, lie, sit, and crouch in KOFEX2's backgrounds after being defeated. In yet another aspect, KOFEX2 exceeds what it established with KOFEX and amazed me with such beautiful backgrounds to battle in.